Nate Keller, NASM-PES
Introducing Coach Nate Keller, your very own personal coach who can help you achieve better performance and success in strength and conditioning. Uncover the secrets to triumph at Keller Training Systems Gym.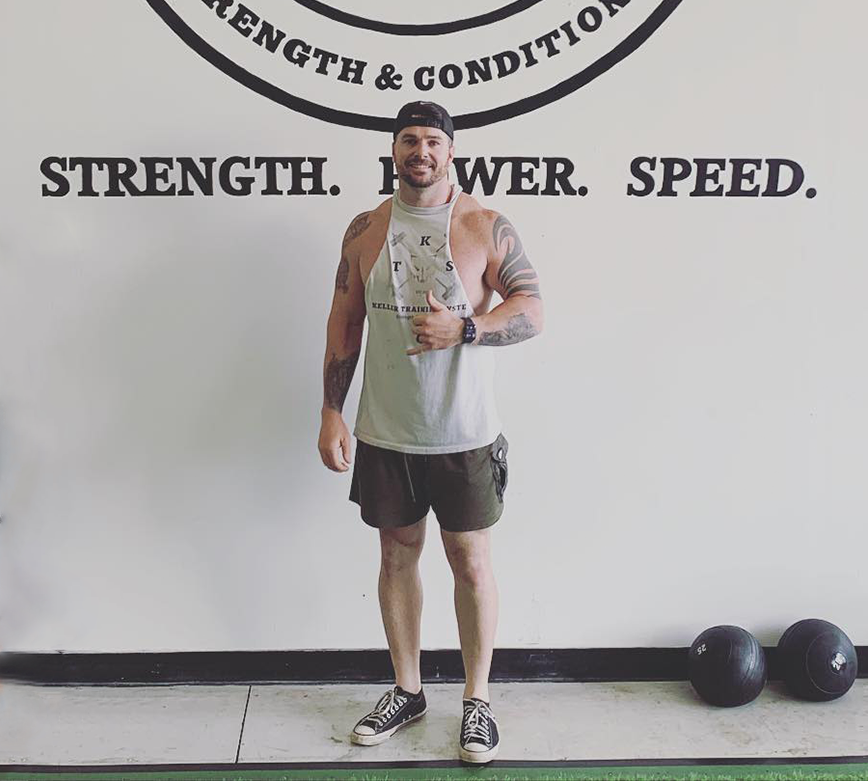 2007-2008
High School
3 Year Captain and starting Linebacker at West Orange High School in Winter Garden, FL. 2x All Metro Conference Football Team 3x All Orange County Football Team 6A All State Linebacker 2007 Central Florida All Star Game Defensive MVP 2 and 3 Star Linebacker on Rivals Finished High School Career with over over 300 Tackles, 20+Sacks, 40+TFL, 4BK, 200 Rushing Yards, 30 Reception Yards and 3 TD's. Participated in the 2007 Central Florida All Star Football Game, where he was named Team Captain and received the Defensive MVP award for the Outstanding Defensive Player of the Game. Graduated High School in 2008 with a 3.0 GPA on a 4.0 scale. Accepted a scholarship to attend Jacksonville University as a Student-Athlete.
2011
College
Played Freshman Year of Football at Jacksonville University. Started on all Special Teams and played a back up role at Inside Linebacker (Pioneer League Champions) Transferred to Webber International University for Sophomore, Junior and Senior seasons 3 Year Starter and 2 Year Captain at ILB/OLB Tallied 289 Career Tackles, 16 Sacks, 30+TFL, 2INT, 10FF, 10FR, 2BK Junior Year All Conference Football Team (2011)
2012
College
Senior Year Pre-Season All American Linebacker (2012) Senior Year Conference Defensive Player of the Year (2012) after totalling 125 Tackles, 19TFL, 9 Sacks, 3FF, 2F Ranked #59 ILB out of all 2013 NFL Draftable ILB's
2013
Professional
Attended Rookie Mini-Camp with the Seattle Seahawks 2013. 1000s of athletes trained & developed from youth to pro level since beginning in 2013. Graduated with a BS in Business from Webber International University in May, 2013 with an overall GPA of a 3.4 on a 4.0 scale.
2014
Professional
Played Linebacker in the Indoor Football League for the Green Bay Blizzard for the 2014 season: Tallied 41 Tackles, .5 sack, 3FR, 3TFL, 1 Fumble recovery for a TD (45 yards), 2 KOR for 30 yards in 6 games. Played Linebacker with the Toronto Argonauts, Green Bay Blizzard, Cedar Rapids Titans, Jacksonville Sharks, Florida Tarpons and Orlando Predators briefly from 2014-2019. (NASM-PES) National Academy of Sports Medicine Certified Performance Enhancement Specialist Studied Exercise Science at Jacksonville University. Learned the basics of Conjugated Periodization and Accommodated Resistance training through 7 years of experience of training using the same system that he uses to train his athletes, as well as knowledge from his former Strength & Conditioning Coach at WIU, Steve Rassel. Since then, he has conducted numerous hours of research on the topics of the Conjugate Method, Triphasic Training by Cal Dietz, and has learned to design and implement training regimens based on the use of Conjugated Periodization and Accommodating Resistance. From his own research, he has gained invaluable knowledge on using the Conjugate Method as well as using triphasic techniques to train multiple athletes in order to develop them into elite athletes at their respective sports.
2017
Professional
2017: Defensive Coordinator / LB Coach / Strength Coach at Ocoee High. ​
2017
Professional
2018: LB Coach / Strength Coach at West Orange High. ​
​
If you desire to become an elite athlete, it's time to take action today.
Why Choose Keller Training Systems?